CRAFTS
How To Make Slime fluffy | 3 Easy ways to Make Slime at Home
Have you ever wondered How to Make Slime fluffy at home or how to make easy slime?
For those who don't know what Slime is,  it's basically playful substance which is very squishy, it comes in the state between solid and liquid also called by names non-Newtonian fluid and it's stress busting toy for all age groups.
Scroll down to see three awesome ways which shows how to make slime at home. How To Make Slime using Oreo, How to make slime using chewing gum and how to make slime glue meanwhile best part is all three methods give out non toxic and safe to play versions.
Note: As always Video link is provided at Bottom! Scroll to end of this tutorial! video shows satisfying results of our hardwork!
Here I will be showing you three easy ways in which you can learn how to make Slime fluffy at home
I have used the basic materials and all are non toxic,  I would like to tell all of you who are reading this to make a note that it is a non edible substance though it's made from non toxic materials.
At first we will see how to make Slime using Oreo, everyone is very familiar with Oreo, Nobody thought across that Slime could be made out of Oreo! In very simple steps I will show you how to make Slime using Oreo.
How To Make Slime Using Oreo
Materials Required to make Slime
Small pack of Oreo(more Oreo gives more and Plastic container of small size, Flour and Water along with Small teaspoon for mixing
Oil if necessary(optional for softness) and most importantly Patience!
 let's start by unpacking biscuits from the Oreo pack
Here we don't need cream part (adding it definitely won't !)
Separate Biscuit into 2 splits then Use spoon to remove layers of cream from both the sides
Cut/crush biscuit into small pieces and add to container and Add few drops of water to this biscuit powder
Using spoon mix the mixture well (usually this part takes time!) later Mix it until sticky solid mixture is formed
By this stage the mixture will be too sticky hence
To remove stickiness add few grams of flour, Mix it well using hand and keep it aside, leave it untouched for minimum 2 hours (patience is the key)
Once the time is gone through , Our Homemade slime using Oreo is ready for use, burst your stress by playing with this homemade Slime
Hope You enjoyed this idea, if you feel struck in any part let me know in the comment section below
If you are a child who don't have much idea regarding materials but very much interested to try it out I recommend you to perform this by taking parents supervision, it will help you out!
Next version of slime is made from chewing gum
How To Make Slime from Gum
The name of chewing gum going by name boomer was very much popular among 90s kids, Here I will be using that exact type of chewing gum to make slime, You can consider it as an honor too!
At this stage many might have thought Can I use other brand chewing gum ?
Answer is yes, But here one small note to be made is chewing gum with fillers(liquid filled inside core of chewing gum) can't be used, my type of Chewing Gum(boomer) doesn't come with any type of fillers, Make sure you find similar ones.
Materials to make slime from chewing Gum
Boomer my type of chewing Gum which I will be using here, you can try with your favorite!
Water
Oil(aromatic as per your requirements)
Bowl for mixing
Time !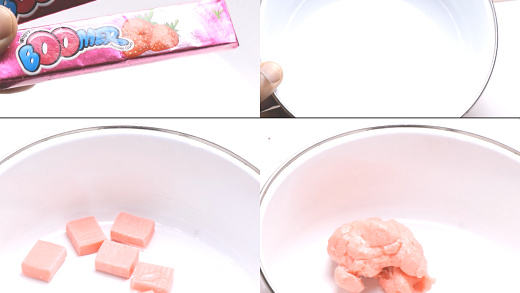 I used entire pack of gum to make this ( 10 pieces ), Bigger the Count of gum Bigger the slime will be
Firstly Empty gum from packet into clean container
Add few drops of water and keep it aside for some time since Gum absorbs water it becomes softer
After leaving for 5 to 10 minutes gum will be sufficient to work with Drain extra water from container
Add few drops of fresh water Using hand mix the gum, I bet you will enjoy the process
Add excess water while mixing so that all sweeteners will be get ridden(sweeteners cause stickiness)
Once u feel little hardness while mixing Stop mixing
Now add few drops of aromatic oil for softening, Again mix it for a while until your slime is ready
Note: If the oil is not used it becomes thick and dry after few days, Use oil as per softness needed
Using more than required would create messy stuff  while you play by leaving oil residues, Hence use required quantity only.
Finally you know how to make slime using chewing gum, Here is the bonus idea for readers
Ill be giving you universal idea for making slime using these simple materials, Few might know it already!
How to make slime using glue
Paper glue comes in almost non toxic types as majority of its users will be school students
So effective usage of this non toxic glue slime can be made in very simple steps,
Supplies Necessary
Paper glue
Baking soda
Saline solution
Water
Glitters optional
Steps for making slime using paper glue
I took 50gms of paper glue to make this slime (one medium bowl), Transfer glue to container then Add water to paper glue in container
One teaspoon of baking soda to be added to same bowl then Add 2 tablespoon of saline solution
Mix all these contents well using small spoon Meanwhile for much more satisfactory and colorful looks add glitter to mixture
Mix it thoroughly for some time Our slime should be ready for use by this time
Take out everything from container Start to showcase your tricks with these homemade substance
Video on how to make slime
Here to watch how to make slime fluffy
Hope you loved the idea on How To Make amazing Slime variants using Simple materials!
i will make new video on how to make slime fluffy soon, if you tried any versions of these let me know
Also if you have any other special way to make this at home write it down in comments, Please show support by sharing this ideas with your needy friends! Thanks