CRAFTS
Make 3D Printed Web-Shooters that works like Real with free STL files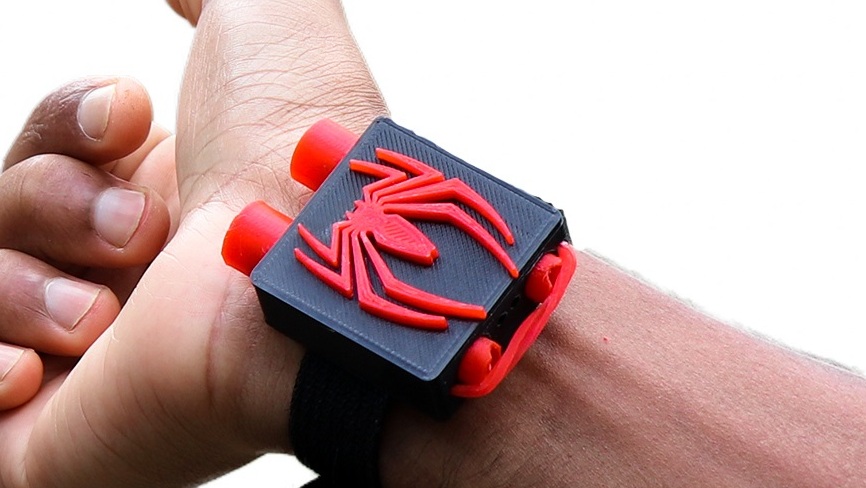 Hi cosplay lovers in this project we will see how to Make 3D Printed Web-Shooters that are fully functional in an easy way.
The best part about this web shooter is all the working parts are made from 3D print parts, as most of the hobbyists now own their printer hence it should be easy for everyone to make this.
In case if you don't own a printer you can get your 3d prints done from any online service provider with minimum charges.
Don't worry, I won't charge my readers so I have included free STL files for these 2 models of web shooter.
Note: The 3D printer that I'm using to print this is available at the lowest price ever on Amazon get it from Here
Don't miss checking working videos too!
The best part here is we are not using any complex mechanism but we get the same performance when we use springs.
Note: This is an awesome gift idea to keep for yourself or as presents for this Halloween, holidays, Christmas, or new year.
Check my previous Project on Spider-man no way home mask
Continue reading to know how exactly we are doing this!
What is 3d printed web-shooters
It is nothing but a web-slinger from spiderman movies, as we know that superheroes possess one or other special powers.
In this post, we will go through 2 types of Spidey web-shooters which you will not find anywhere on the internet, if you find it too, it won't be easy as this.
Our first web shooter has 2 barrels meaning it can throw 2 webs at once.
For our convenience, I have given a name for my first model as a Unique 3d printed web shooter.
Whereas the second web shooter has a laser pointer that guides when the web is being thrown out.
Now, this goes by the name Laser web shooter.
Now we will go one by one on how to build this for your upcoming Halloween costume or for cosplay.
Unique 3D printed web shooter
This model has a special function to throw dual web at once let us go through the steps to build this.
To make this amazing Spiderman 3D printed web shooter all you need is a rubber band, old wrist band, and STL files.
To begin with, let us go through some steps that make this wonderful project.
We will start by designing the body and mechanism.
I made use of tinkercad software which is very easy and helpful to build this.
It took me some time to design and get this model into the working stage.
You can have a look at the blueprint for this model.
The design is very simple to understand it has 2 barrels and holes in the main body to fit those.
For the web, I made use of a .7mm 15cm tube which you can 3d print or recycle from the old pen.
Once I designed the files I got a physical object to make sure there are no errors, initially, there were few!
But I fixed all those and got the working model ready
You can download these free STL files for this spiderman web shooter 3d print version.
Check this Awesome video which shows how far the web goes and also to Make 3D Printed Web-Shooters.
Laser web shooter made from 3d print parts
This model has a very interesting feature which other spiderman web-shooters don't have.
This has a red dot laser also called a fancy laser which you can find on toy laser lights.
This serves as a guide which is very useful in the dark.
If you are into cosplay parties this will be the best idea to give a try.
To make this you need 3 electronics which are easily available on hardware shops or online.
Lithium-ion batteries with a holder.
Very simple Switch.
Red dot laser diode are the additional things apart from 3d print parts.
Now we will begin with the design phase for this.
Like earlier here also I made use of tinkercad software.
Here is the visual of the design of web-shooter parts.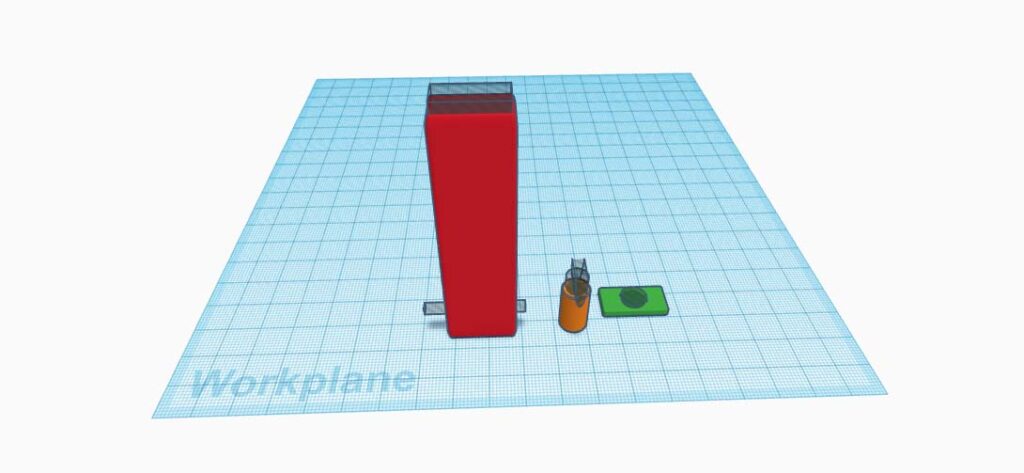 Design is very simple and takes less than 2 hours to print.
Here is the Design file for this spiderman laser web shooter.
Once you have these design files you can slice them using a Cura slicer.
I printed them on an ender 3 pro which took me around 2 hours each.
I did not use any supports but make sure you use adhesion as we have cylinder shapes whose area of contact to the print mat is lower.
Once we have our parts ready assembly process will take less than 10minutes if you are a noob too!
Assembly of Unique 3D Printed Web Shooter
Here are the parts from the printer and we will see how to assemble this.
I chose red and black as it suits this design.
Black color parts are the upper cover.
A small red tube is for covering the tip parts of barrels.
To couple them, you need super glue.
Below are the visuals that show the build phase.
To begin with, we will insert cylinders in short barrels inside the main body.
I have already given slots to do this.
Just insert this and make sure you allow small space at the tip.
Stick these using super glue.
Now use a rubber band at the end of these tubes.
You can add a rubber band to the body with the space(holes) given at the end part of the body.
I made use of filament pieces to keep the rubber band in place by locking those insides.
Close the upper cover and add extra tubes as in step number 3.
Finally, add a wrist strap to the back part of the body using super glue.
This completes our assembly, for the web part, I made use of a 0.7mm tube which is 15cm.
We need 2 of them as we have 2 holes/slots.
Tieing a piece of thread to the end part makes it looks like the web going out.
Assembly of Laser Web Shooter
Like the previous version, this is also very easy to build.
Kindly follow these simple visual instructions to know how to assemble this once we have 3d print parts.
The first image shows the print parts we got from the printer whereas the other image shows the assembly process.
Just add a rubber band to the back part of the mainframe.
Like earlier, we are using a piece of filament to lock the elastic band.
Now to make it even prettier cover with a black part that hides these bands.
Now we can start to make a basic electronic circuit.
Follow these basic wiring instructions.
Just add a switch between the laser diode and battery.
To make this easy to recharge I will be adding a lithium-ion battery to a case.
Couple frame with this case using double side tape.
Like the previous version, a drop of super glue attached to the wrist strap makes this wearable.
That was all about how to Make 3D Printed Web-Shooters check out this working video.
How to use
Both follow the same procedure.
Just add this to your wristband.
I did not provide a web part, but you can use a 15cm and 7mm tubes.
Just push it back inside the barrel.
Release it.
Adding a piece of white thread gives out the best results.
Don't miss checking the working video.
If you are an Iron man fan you need to check this Iron man mask Project