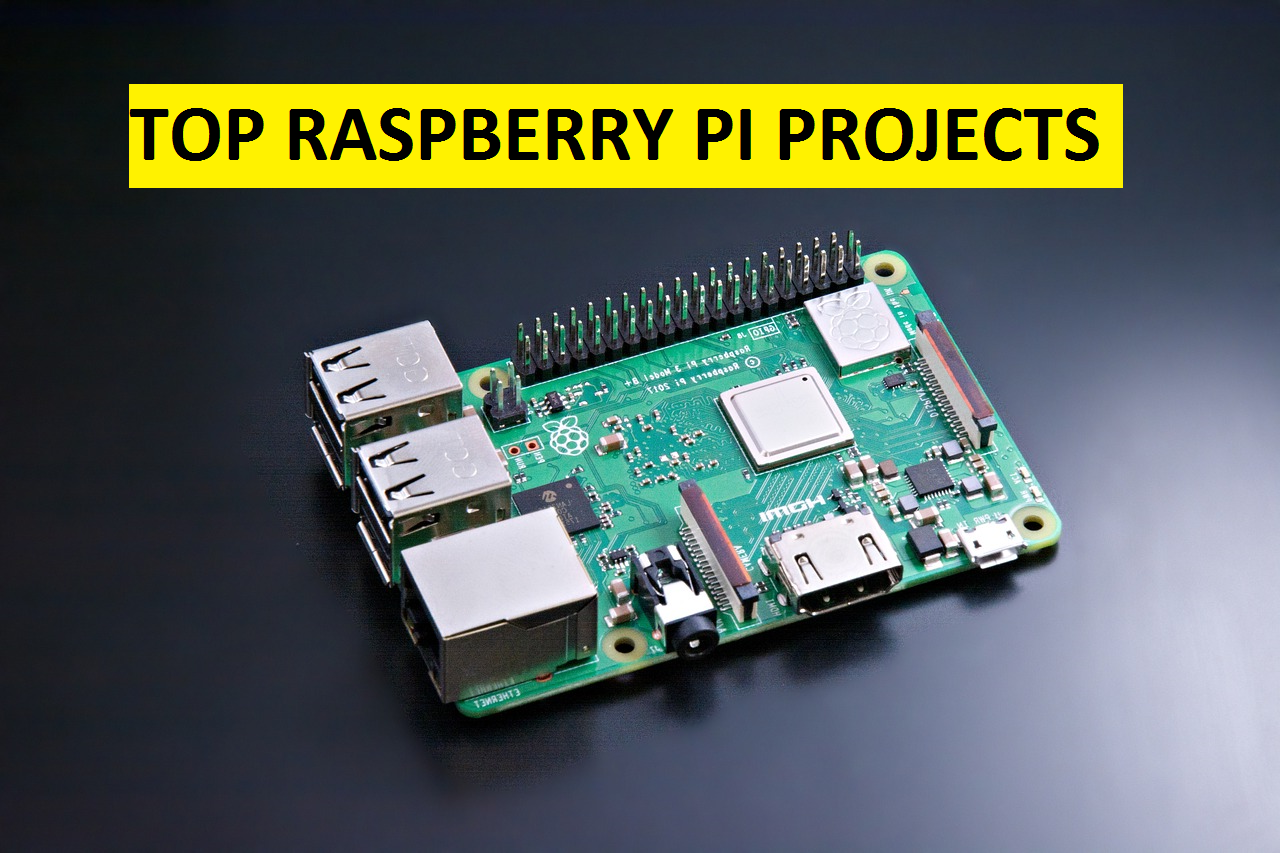 The focus of this post is on the top Raspberry Pi Projects. For any do-it-yourselfer, the Raspberry Pi is one of the most reliable devices.
It's a small, low-cost computer that lets you construct projects or even products using computers.
You can now make smart mirrors, weather monitors, parent detectors, and more with one small device.
Newer models even allow you to construct projects from the ground up and connect them to your Wi-Fi network.
These tiny computers that resemble circuit boards have a wide range of potentials and applications.
With that in mind, we've compiled a list of some of the Raspberry Pi-based projects.
Definitely after reading this you will want Raspberry Pi! So i have given best Raspberry pi 4 board from amazon to make these projects Buy in USA / INDIA
Disclosure: These are affiliate links. As an Amazon Associate I earn small amount from qualifying purchases at no extra for you
List of Raspberry Pi Projects best 10
Seismograph from Raspberry Pi
Real-time Object Recognition
Build a Radio Transmitter
RFID Door Lock
Pi Satellite Tracking Globe
Raspberry pi Wi-Fi Extender
Full-Fledged Desktop Computer using Raspberry Pi
The Parent Detector
Magic Mirror which is google enabled
Google Home On Raspberry Pi
Seismograph from Raspberry Pi
If you recently purchased a Raspberry Pi 4, you can begin your experiment by constructing a Seismograph. It detects earth tremors via geophone sensor.
The RS1D sensor detects ground movement as voltage, which is subsequently transformed into a digital signal via a shake board. To complete this project, you will need two more components.
The signals are then store in a Raspberry Pi, from which you can receive a warning through a smartphone notification or a sound system.
You can also share seismic data with the Raspberry Shake community by enabling data sharing.
The greatest news is that the Raspberry Foundation has highlight this project on its website, complete with step-by-step instructions so you can get started right away.
Check raspberry pi projects cool Seismograph tutorial here
Real-time Object Recognition
How can Raspberry Pi fall behind as the world moves towards machine learning and artificial intelligence?
Yes, using Google's TensorFlow framework and the latest Raspberry Pi 4, you can recognize objects in real-time, and it works flawlessly.
For the RPi 4, you'll need a camera module that snaps right into the board.
You'll also need a large heat sink and a fan to keep the processor cool, as well as a touch screen display.
Finally, install Tensor Flow Lite on your Raspberry Pi and you're ready to detect things in real-time.
Check project here
Build a Radio Transmitter
You can make a radio transmitter with a Raspberry Pi 4 and very little other gear. Previously, you could simply make an FM transmitter using previous Raspberry Pi configurations.
However, thanks to a new tool called rpitx built by F5OEO, you may now modulate and transmit radio frequencies such as FM, AM, SSB, SSTV, and FSQ.
It can handle radio frequencies ranging from 130 kHz to 750 MHz, which is incredible. All you have to do is connect a wire antenna to GPIO port 18 (Pin 12) on your Raspbian Pi 4 and run the rpitx program.
You'll be able to hear radio broadcasts between certain frequencies near your location, and you'll be able to record them as well.
Radio transmitter from pi full tutorial available here
RFID Door Lock
This is a more sophisticated Raspberry Pi 4 project, so if you have the skills, you should give it a shot. While we've seen biometric and password-based home automation and door lock systems, this one unlocks the door with an RFID tag. Electromagnetic fields are used in the RFID system to convey data across short distances.
It's a more user-friendly and seamless option. You'll need a solenoid lock, an RFID sensor, a relay module, and some external power for this project. After that, you'll need to install some command-line tools before you're ready to go.
Here is the full project making tutorial
Pi Satellite Tracking Globe
Matt Walker's satellite tracking globe is one of the coolest Raspberry Pi creations.
It allows you to follow the exact location of a specific satellite in real-time. A laser is projected from inside a globe lampshade to power this tracker.
It is a great addition to your bedroom or may be given as a gift.
Building this project would also necessitate some programming knowledge. Matt Walker's project employs the Python programming language to control the laser mechanism.
To map the satellite coordinates more precisely, he considers the current time, the XYZ coordinates, and even the earth's rotation.
Thankfully, Matt Walker went into how he estimated the laser location in detail for a more accurate picture. Check his work here
Raspberry pi Wi-Fi Extender
Wireless Internet connections are convenient, but they are highly reliant on the router's and receiver's signal strength. It's not uncommon to have the best reception in the lounge yet be annoyed by regular connection drops in the next room.
A Wi-Fi extender that receives and redistributes the signal from the router can assist.
Gus, a Raspberry Pi user, has given instructions on how to simply create an extension using a Raspberry Pi on the PiMyLifeUp site. You'll also need one to two WiFi adapters (also known as WiFi dongles) depending on the model; the key question is whether the model comes with its WiFi adapter.
Raspberry pi wifi extender project is here
Full-Fledged Desktop Computer using Raspberry Pi
If you're reading this, you've probably already had many systems. Even yet, getting a full-fledged desktop computer from a cheap Raspberry Pi should make your ears ring with delight.
It's one of the greatest Raspberry Pi projects for system aficionados since they'll get hands-on experience building a system from the ground up.
We propose that you check out this project right now if you're interested in Raspberry Pi computing projects. Connect an HDMI monitor to your Pi to serve as a display.
Add the required peripherals, such as the keyboard and mouse. To be safe, place your board within a sturdy metal case. Install a cooler to keep your Raspberry Pi board from overheating.
The Parent Detector
Another project from the Raspberry Pi website, this one uses only the bare minimum of hardware to create a motion detector that then starts a video capture using the Raspberry Pi camera module.
There are numerous applications for this. You can keep an eye on your child when they enter their room if you are a parent. In either instance, keeping an eye on your door as a security measure to check when someone arrives can be useful. The official Raspberry Pi website has all the necessary information.
You can know more about this here
Magic Mirror which is google enabled
The magic mirror is one of the most popular Raspberry Pi projects. It's a useful addition to your home or business because it lets you see your schedule, weather forecasts, to-do lists, and much more. You may also add and customize other widgets to the mirror's reflection using the magic mirror.
Another advantage of owning a magic mirror is that it can be upgraded to a smart mirror with voice control. Apart from the normal supplies for a magic mirror, you'll need the Raspberry Pi 3 Model B+ for this project, as well as the Google AIY Voice Kit.
Still, the magic mirror is a simple project that won't break the bank and doesn't necessitate complicated programming abilities.
How to make Google Enabled Magic Mirror Tutorial
Google Home On Raspberry Pi
You could make your Raspberry Pi into a cheap Google Home DIY replacement if you could install and set up Google Assistant on it, right?
Thankfully, you can do so with your Raspberry Pi. In the video tutorial here, you can learn more about it.
Best Raspberry Pi 4 board from Amazon to make these projects Buy in USA / INDIA
Disclosure: These are affiliate links. As an Amazon Associate I earn small amount from qualifying purchases at no extra for you
That was all about some of best raspberry pi projects beginner as well as for pro's hope you enjoyed it, Thanks for Reading