Hi Beautiful people, as valentine's day 2022 is approaching too close many people will be looking for Home made valentine gift Ideas
Valentine week needs lots of gifts and its a big blade for the wallet! Why not make gifts by yourself for valentine day week, Here i will show 2 amazing gift ideas for upcoming valentine's day
Note: Don't forget to checkout working videos of these gifts, link for video is given at end of this article
How to make heart explosion box for valentine day gift ideas with special messages
With this gift you can show your affection towards loved ones by displaying customized messages and symbols
when you open the box the message pops up which leaves other person mesmerized. made from simple materials
Chocolate explosion box for valentine gift ideas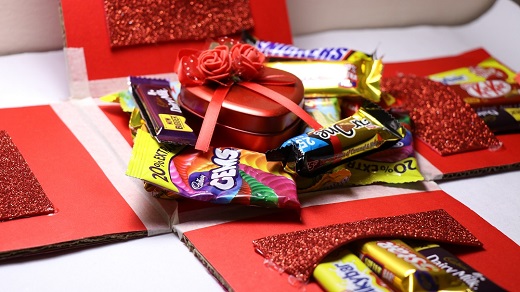 This is best valentine gift idea for her, fill this box with favorite chocolate of your beloved ones and present definitely they will love this gift.
Note: valentine gifts can be give to best friends also!!
Well now you have seen how your gifts will look like. Which later will be presented to loved ones, now let's have a look at materials which is required to make this valentine week gifts for him/her.
Materials required
Almost all materials can be found in home, for chocolates you need to rush into nearest superstore which is exciting part!
Glitter foam sheet which is red in color with sparkles
Paper glue, Scissor and Paper
Messages which you want to convey( i used blue heart you can choose red) also rings can be used
Superglue/hot glue(optional and most importantly Time!
Steps for making heart explosion box for valentine day
Cut the sparkling glitter foam sheet to the shape of heart
If you don't know how to cut directly on foam, draw same on piece of paper and later use it as reference
Cut 3 pieces in total, 2 piece will be for bottom support other will be used to make lid for this box
Take two pieces, Add glue on their back surfaces and stick them together so that base becomes strong instead of being flexible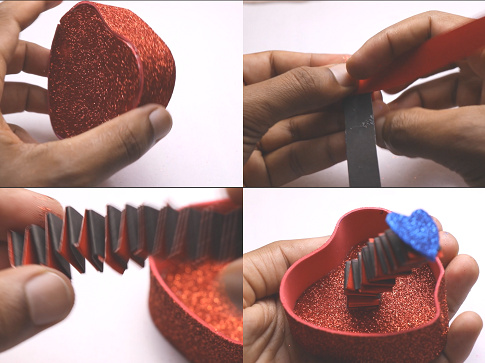 Cut strip of glitter sheet and glue it across length of heart, please refer visuals if you left with any confusions
Make lid for this box with leftover piece of heart by gluing small strip of foam as per your requirements
Here the main part responsible for popping up messages is spring made from paper
Make Paper spring for pop up gifts
To make spring i use cut pieces of long paper strips Just keep 2 strips alternatively one above the other as shown in images
Glue starting and end points with glue so that spring wont start jumping!
Now using glue stick one end of paper spring to base of box For other end of spring use your personalized messages
Now to test if everything works fine manually compress the spring and close the lid of box
When you open the box now message should pop up and if you followed same mentioned steps above Definitely it will!
That was all about making message pop up box for your dear ones, this is one of the easiest gift idea which you can make easily at home with some basic stationery supplies, Now moving next.
DIY Chocolate explosion box for valentine's day
This not only can be used for valentines day but for other occasions such as birthdays, anniversaries and much more BTW who doesn't love chocolates!
Supplies required to make chocolate explosion box
Few pieces of cardboard which are precut as per size of box needed
Red color paper
Glitter foam sheets for chocolate holder
Gum tape
Chocolates!
Once the supplies are gathered it can be put up very easily, use gum tape to stick cardboard pieces together
Place the base cardboard it has 4 sides, Using gum tape stick other pieces of cardboard to all sides
Once this is done check if movements are smooth by lifting side pieces and dropping them
Once this works fine make lid for this box by taking appropriate size
After making lid check once again if it's working fine
Once confirmed, make pockets for holding chocolate by sticking strips of paper on side pieces as shown in visuals below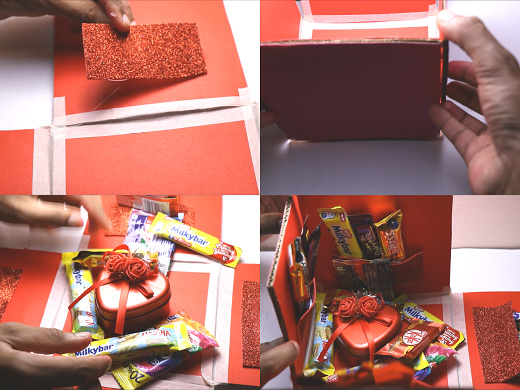 Load this with as much as chocolates you want to
i have placed surprise box in exact middle as few won't just be satisfied with chocolates
This box will be covered in beginning when the box sides fall off it becomes visible
Well that was all about making gifts for valentine, hope you loved this ideas to show support for these two DIY CRAFTS share this with your family, friends and beloved ones as much as possible
As sharing this free useful knowledge doesn't cost you any penny, let me know in comments if u made this Craft.
Video Tutorial of valentine gift ideas for him
Watch working of homemade chocolate explosion box Here this can be used as valentine gift ideas for him also
First project video is also available make sure to check that too
Note: Don't forget to checkout my other crafts ideas on crafts tab in my site
Have a Happy valentine's day share this ideas with your people! Thanks for your time, have a great day 🙂